More about Amazing Grace Guitar song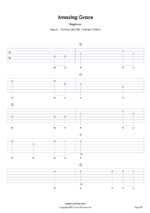 With Tunefox, you can learn 3 bluegrass guitar arrangements to Amazing Grace, starting with the Beginner tablature. This tab will give you a foundation for the melody so you can easily modify it along your journey to the intermediate and advanced versions, which will each progress in difficulty. This helps you develop a bluegrass guitar vocabulary while also staying true to the melody of Amazing Grace.
The "Speed-Up" and "Memory-Train" practice tools offer ways for you to practice technique and memorizing the arrangement of Amazing Grace you're learning. Speed-Up will automatically increase the tempo of the song or selection that you're practicing while Memory-Train deletes notes from the tab each time it loops to help you commit the melody to memory. To select and loop sections of the song, click on them with your cursor.
Use Tunefox's backing tracks to practice this bluegrass guitar version of Amazing Grace with a real-sounding band. Go to the Settings menu to mix the volume of the guitar, band or metronome to your liking.
Are you looking for a way how to be more creative while playing this song? Our content creators prepared different ways to play most of the measures in all 3 variations of Amazing Grace. We call them "licks" and you can change these by clicking on the "Original Measure" text above the measure. You can also shuffle all of the licks in the song to get a completely new arrangement.
Members can also export all of their banjo Amazing Grace arrangements into PDF files.