More about Red Wing Banjo song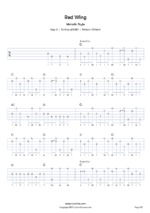 Here on Tunefox you'll find 3 versions of Red Wing for banjo. The Scruggs style tablature will teach you how to play slides, hammer-ons and pull-offs. In the melodic arrangement of Red Wing, you'll learn some fancy up-the-neck melodic work. The third variation of this song is a forward roll based-backup arrangement.
In every Tunefox tablature arrangement you'll find measures where you can switch out licks to see different options to use for your improvisation. This feature is called the Lick Switcher. How do you find the Lick Switcher? Look for text that says "Original Measure" over different measures in the Red Wing tab you are learning and click on that text. It'll open up the Lick Switcher where you can select a substitute measure for that spot in the song. You'll find that there are different styles of licks like Scruggs, Melodic, Bluesy, and more. Want to see a completely different version of this song? Click on "Shuffle Licks" on the bottom of tool panel to randomly shuffle the licks in the song.
Be sure to check out all of the great learning tools that Tunefox has to offer such as "Hide Notes", "Memory Train", and "Speed Up". These tools can be found in the "Tools" menu at the bottom right of your screen. Want to learn some of Red Wing by ear? Use "Hide Notes" to hide some or all of the notes in the tablature. Once you're finished learning with the tab use the "Memory Train" tool to commit the song to memory. Then practice with "Speed Up" to improve your technique and speed in no time.
Using backing tracks for practice should be an essential part of every musician's routine. With Tunefox, you can practice Red Wing as fast or as slow as you want and mix the volume of the tracks with the instrument to your liking. There's also a metronome so you can always feel the pulse of the song with or without the band track playing along.
When you've finished creating your arrangement of Red Wing, export your song arrangement to PDF file. This feature is for members of Tunefox, only.