More about Banjo in the Hollow Banjo song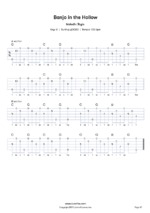 "Banjo in the Hollow" is a tune written by Doug Dillard, who is the banjo player of the bluegrass band named "the Dillards." It's an instrumental and the Dillards performed it on The Andy Griffith Show on the episode; The Darlings Are Coming. The Dillards were referred to as The Darlings in the show. The Song was called a different title by Briscoe Darling, which was "Tearin' Up Your Old Clothes for Rags.
Two of the band members, Doug and Rodney, started out performing as a duo before officially becoming a band. The full band did a recording of Banjo in the Hollw as a single for a record label called K-Ark Records. In 1962, the Dillard's band was officially formed with two new members added to the group, namely; Dean Webb on mandolin and Mitch Jayne on bass.