More about Amazing Grace Mandolin song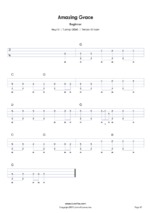 The Tunefox Beginner tab is focusing on accenting the melody notes of the vocal line. Intermediate arrangement features more 16th note up and down strokes than the beginner version and Advanced version adds some tasty melodic flare.
Need some practice help? Tunefox has several unique learning tools to keep your practice interesting and fun. Use the tempo slider to find the perfect tempo for you to practice at. When you've found it, test your speed with the "Speed Up" function, which will steadily increase the tempo each time the song or selected measures loop. When you're ready to get off the tab, use Memory Train to increasingly hide notes each time Amazing Grace tab loops.
Once you learn the main arrangement of Amazing Grace, try switching out the licks in the song to learn about improvisation and creativity. You can do this by using the Tunefox Lick Switcher, which features hand-crafted licks built specifically for each tab. If you're looking to spice up the entire arrangement of Amazing Grace, click Shuffle Licks, which can be found in the bottom tool bar.
The backing tracks included in all tab versions of Amazing Grace are a great tool for practicing the melody or improvisation. Go to Settings to change the volume levels of the mandolin, full band tracks, and metronome to suit your practice needs.
Want to print out your arrangement or share it with a friend? Sign up for a Tunefox membership to export your tab to a PDF file.