More about Big Sciota Mandolin song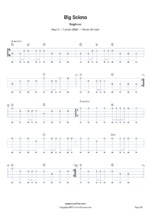 Learn how to play the melody of Big Sciota with the beginner mandolin tab on Tunefox. From there you can work your way up to the intermediate and advanced arrangements, which feature an emphasis on technical playing while still holding true to that original melody.
Use Tunefox's unique practice tools to take your playing up a notch or two. The tempo slider allows you to set the perfect tempo for your practice, depending on your goals. Work up to your ideal speed for the song using the Speed Up tool and once you're ready to commit Big Sciota tab to memory, use Memory Train to gradually hide the notes in the song each time it loops.
Once you learn the main arrangement of Big Sciota, try switching out the licks in the song to learn about improvisation and creativity. You can do this by using the Tunefox Lick Switcher, which features hand-crafted licks built specifically for each tab. If you're looking to spice up the entire arrangement of Big Sciota, click Shuffle Licks, which can be found in the bottom tool bar.
Need to work on jamming? Use the Tunefox backing tracks, which are included with each arrangement of Big Sciota. You can mix the volume of mandolin, full band, and metronome to whatever level you'd like.
Members can also export all of their arrangements into PDF files.